Willow has such a pleasing sound to it, doesn't it? It sounds just how it moves in the wind. I was always so jealous of my friends who lived down the street who had what I thought was the prettiest tree in the world. I immsersed myself in a book called Blue Willow, and identified with Janey's love for her fantasty willow forever home. I have always loved the willow tree for its movement, its natural drapery, and its ability to make me feel like I'm at home wherever I am. To this day, I always search antique stores, for willow pattern china. Widely available online, I'm determined to have one handed down to me, or found so my plate can be just as special as Janey's.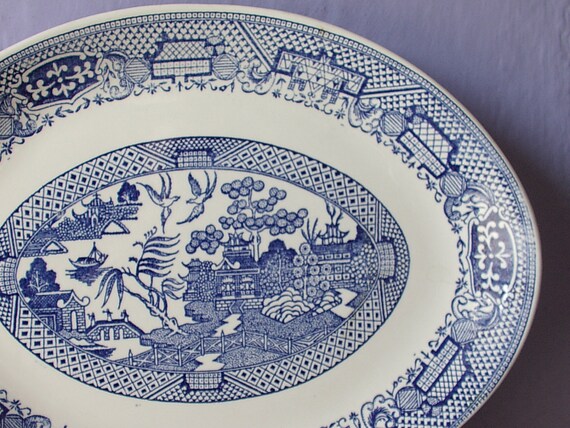 (buy your own on etsy)
So once I moved back to Victoria, I was so pleased when wandering around I found a willow tree within walking distance of my mother-in-law's.  I went for a walk and came back with so many wonderful willow branches and so many ideas on how to use it all.
I began by picking the willow leaves off the branches for tea.  Willow has been used for centuries by Indigenous North Americans as a source of food and medicine.  Salicin is a chemical that acts similarly to aspirin.   It's used for treating pains including headaches, menstrual cramps, muscle pain and arthritis.  Most of its medicinal properties come from the bark, which I could have easily peeled off the branches I cut, but I had other plans.
It took a while, but I had company.
I popped the leaves on a pizza tray and let them dry out.  I have to say, the tea doesn't taste the nicest, but it does work.  I used it for mild pain I had after sleeping wrong, and I felt the warm hug of the willow the whole time.
I wove the pieces into a wreath shape for my mum for her birthday.  I added a few handmade felt strawberries, vines and leaves for a pretty country piece of handmade glam for my mum's home.
Isn't willow pretty?
xob